ADW Corporation is a leading HVAC and architectural products representative and stocking distributor in Dallas and Fort Worth.
We're proud to be an integral part of the North Texas building construction and mechanical equipment industry for nearly 50 years, serving you from our office and warehouse locations in Dallas (Carrollton) and Ft. Worth. ADW represents the finest manufacturers in the HVAC equipment and Architectural markets – Titus registers and diffusers, Ruskin dampers and louvers, Acme Fans, Precision Air Products, Seiho, Pawling, Cambridge and more. See all our manufacturers here.
HVAC design, selection and application help
Our engineering and sales staff are ready to serve you in solving your equipment selection and delivery challenges. We assist consulting engineers, architects and contractors regularly in the selection and application of all of the products we represent, including helping you achieve important LEED credits. And, we help you get those products to the job site on time.
Need air distribution, fans or dampers now? Here's what's in stock.
We warehouse a wide selection of HVAC and architectural products, ready for immediate pick-up or drop-shipped to your project location. Our warehouse is conveniently located at I35 and Belt Line Road in Dallas.
Ruskin sightscreen louver looked just right for State Farm
State Farm Headquarters says Ruskin ev811ab is just right for their new entrance sightscreen treatment.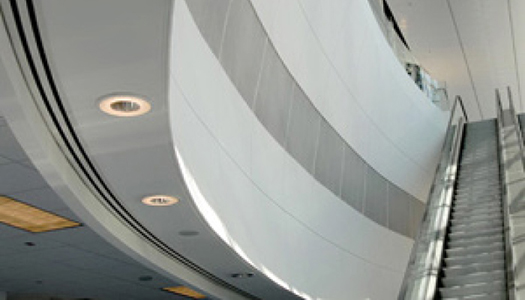 DFW Airport Terminal D
DFW's Terminal D used over 3,000 Titus TMSA diffusers and over 10,000 feet of CT linear slot diffusers. That's a lot of air.